5 Ways to Improve Mental Health Through Self-Care
Written by
Dr. Veena Madhankumar
and medically reviewed by
iCliniq medical review team
When you have a busy schedule that includes going to work, making dinner, taking the dog out, and spending time with friends and family, it can be hard to remember to take care of yourself. This can lead to burning out and running around town in a mental haze. Practicing self-care can improve your mental health and overall well-being, especially if you're going through addiction recovery. Here are some basic, but often overlooked, ways to focus on self-care, so you that you can be the best version of yourself.
Get enough sleep
When you don't get at least seven to eight hours of sleep a night, it can cause a slew of problems and impair your mental health. Short-term problems of not getting enough shut-eye can include lack of alertness, impaired memory, added stress on your relationships, and reduced quality of life. Lack of sleep causes an increase in the stress hormone, cortisol, in your body, which can cause a variety of effects on your physical and mental health. While you should try to eat a healthy diet and exercise regularly, you should make sleep a priority. When you get a good night's sleep, you'll be able to perform at a higher level and improve your well-being.
Take time to relax
While it may be tempting to fill your calendar with business and personal outings, it's important to take time to relax as well. You need to give your mind time to reset so that you don't burn yourself out. Not taking time to relax and enjoy life's slower moments can cause you to harbor stress, which can lead to mental and physical problems. The next time you start to feel overwhelmed by everything on your to-do list, sit down on the couch and put on an episode of your favorite television show and relax for 30 minutes. You'll feel a lot better.
You can also increase your relaxation by taking time to declutter and organize your space. Getting rid of items you no longer want or need can help lower stress levels and decrease your overall anxiety. By creating a serene, nurturing environment, you'll be able to kick back and relax without worrying about everything that's literally surrounding you.
Know it's okay to say "no"
We know it's hard to do because you don't want to miss out on anything fun, but sometimes you just have to say "no" when a friend or family member asks if you want to go to a concert or grab a drink. Don't feel pressured to say "yes" or feel like you're going to hurt their feelings. If it makes you feel better, you can say "no" and then suggest an alternative idea to do at a later date. Every now and again, it's okay to be a little selfish and decline invites to things. It will help you balance the things you have on your calendar with a little relaxation time.
 
Try meditation or yoga
Meditation and yoga go in hand-in-hand, and they can help you practice mindfulness, while relieving stress. Both of these practices enhance concentration and relaxation, while keeping you in the moment. If practiced correctly, yoga and meditation can help you increase your gratitude and mental health and help you see the world in a new light. Through meditation, you can ponder any insecurities or worries that you may have, and release them so you can focus on the things you love about yourself and your life.
Try a new hobby
A hobby is a great way to improve your overall mental health, because hobbies allow you to take time away from the things on your to-do list, and allow you to focus on something you want to do. By taking the time to do something you enjoy, you improve your quality of life. Hobbies can range from sports like tennis, to an art like painting, to social gatherings after work. Finding something that you enjoy that helps distract you from the stressors of life will help you improve yourself and allow you to become a better person.
Life gets busy, but it's important to remember to take care of yourself. Taking the time to focus on self-care will help you relieve stress and lead a higher-quality life.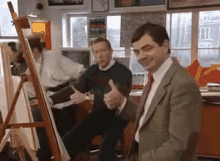 Written By: Brad Krause
Recommended Links
Article:
Introduction to Mental Health Primary Care
In a country like ours where access to basic primary health care resources is still very poor, in such a scenario expert mental health services are very difficult to provide. Promotion of awareness then becomes increasin...
Read more »
Article:
An Insight into Mental Health
There is an urgent need in many countries to increase the awareness regarding mental health. The most important task now is to make people understand the concept of mental health correctly and learn how to deal with it a...
Read more »